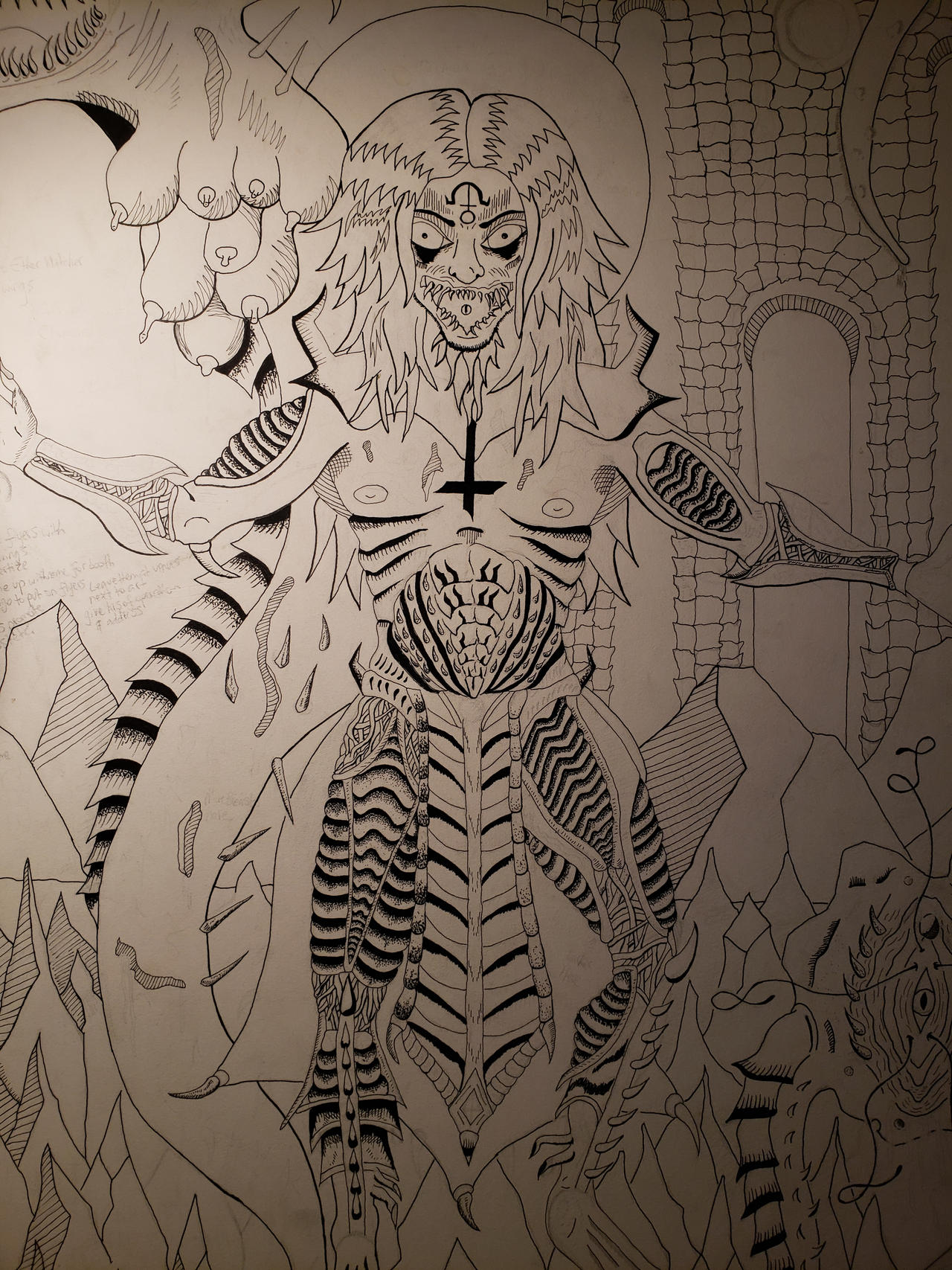 This is the central character to the universe I've been building. I don't know if I want it to be a comic book series or not. Several people have commented on my art style and said it's a mixture of 1970's fantasy art and traditional Japanese artwork. Part of me wants to go to school for this but I've also considered just finding a teacher to give me one on one lessons instead. My biggest inspirations are Frazetta, Giger, Lovecraft, Spawn, Witchblade, Venom, and the art from Doom Eternal, Bloodborne, Darkstalkers, Nightmare Creatures, and Dead Space. There's a number of themes that a frequently in my art, which include: Parasitism/Symbiosis, infection, sexual alchemy, paraphilias, insect anatomies, solipsism, genital horror, eyes, and inhuman birth.
Many of these themes are present in this drawing which measures 22"x30" on a sheet of vellum Bristol board.
Anyway, I welcome any constructive criticism you may have be it on lineweight, anatomy, tonal values, perspective, or composition, etc
I've been drawing for about 2 and a half years and want to get better. In late August of 2020 started taking things seriously and I set out to make 10,000 drawings but only made slightly over 7,000 because I began work on my first large drawing using pointilism as a primary technique. Something I will not be doing again because it took me four months to draw and ink the thing. The seven thousand drawings range from studies, to finished pieces but almost all of them are studies and I have a stack of sketchbooks plus a large bin that is being filled up with drawings. Over that year I averaged about a sketchbook or two per month. I've invested a lot of money and time in doing this and I'm finally at a point where I am making more finished works but as a result of the fun my studies have slowed down and I think next year I will set out to make 10,000 again.
Update: I've posted some older drawings as well as my current project. The ink sketches are from 2019-2020. Everything was very scratchy and I had just started drawing. The large inked piece I did early this year and the pencil drawing is from this week. I feel like I understand tonal values a lot more now but I struggle a lot with getting out of the "T" pose and transitioning to more dynamic 3D poses.
My anatomy also needs work.
MODERATOR NOTE: I fixed the image and removed the attached files. That included moving the "older drawings", but anyone can view them by going to the DeviantArt link posted later in this thread. ~pell