Hey guys I thought I would share this newest find of mine to extend the usability of my phone for art.
I have been looking for animation software that lets me import artwork from my drawing app to then make some little animations.
the only cool stuff seems to be ios only, so in the meantime I would say this is the only android app capable of the stuff I need to do for my animation fun
This is rather new, I think a bit under a year or so on the play store.
It finally lets me do the following: draw assets in medibang, which I export as transparent png and import that into the software.
It lets you do quite a couple automations, keyframe smoothing, you can import sound and the list of features keeps growing. If it was a one time purchase i would have gladly bought it already but these guys have a subscription based model, albeit very cheap though. I think it is ca. 4$ a month with 25 $ yearly sub. So I was really thinking of using that, but honestly there is only one effect I want out of the added features, which lets you autonate a layer based on the automation of the layer underneath. With that you could make really cool chains of automations. Since I dont plan on publishing amything with it amytime soon I can love with the watermark just fine atm.
I will later post screenshots, as well as a short thing I built with this.
https://play.google.com/store/apps/d...reative.motion
This is what the Interface looks like in the main editing environment.
Two things that immediately are missing: zooming the view port and: no landscape mode yet. I dont know if these features are to be implemented, but would sure be super useful.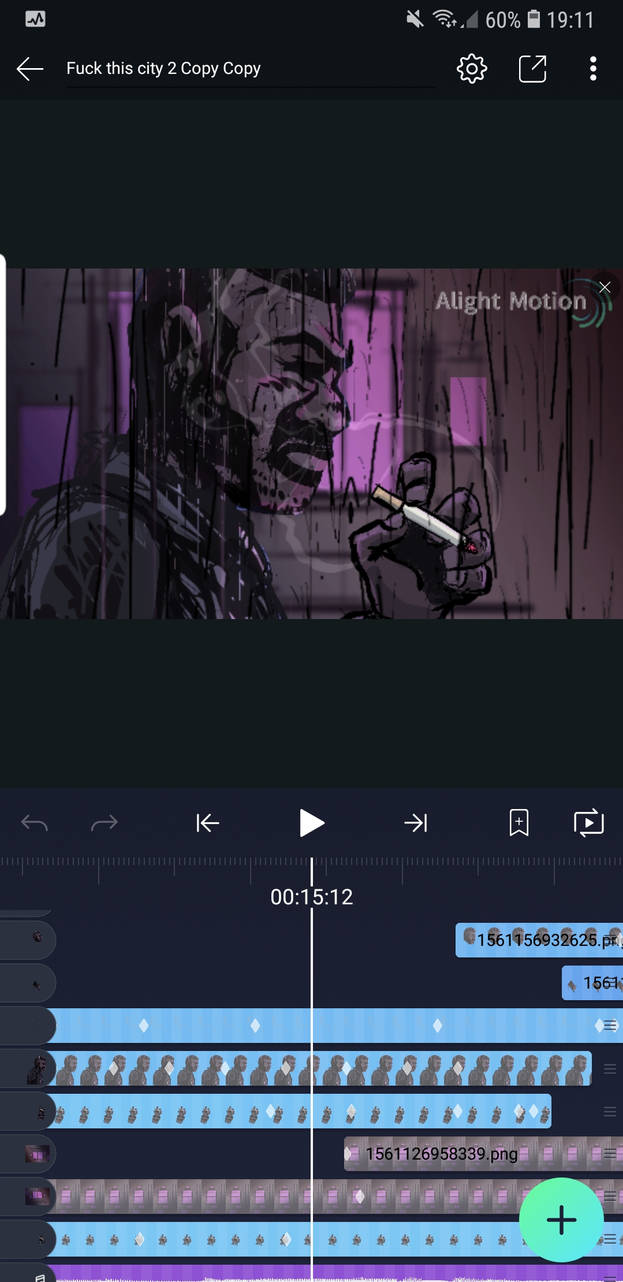 This project contains 26 Layers, 7 of which are audio layers, 4 are textlayers for the credits. The project is exported in full HD, 1 minute took 22 minutes to export.
The app lets you make so called "Elements" which are little pre compositions, that you can use in your project. For example, the rain in this clip is such an element. The advantage is, you can specify a certain part to be looped inside the precomp, which lets you adjust the length in the main project much easier, as the middle will get looped and the beginning and end remain intact.
There is a lot more stuff to play around with, maybe I will update this post later.
I am using the Samsung Galaxy Note 8 Phone.
Here is a little clip I did with some assets that I created in medibang