I am okay at artwork, i'm not going to lie, i'm a writer, not an artist, i carry around "how-to" books wherever i go just to manage what i'm working on now for the web-comic... this is what i have fully 100% done.
as you can see, good, but not great. not what i'm looking for...
some artists drew my original character in last weeks "weekly sketch group..."
These were the top three styles i liked, the animated but actiony style (my personal favorite)
By scmarooney...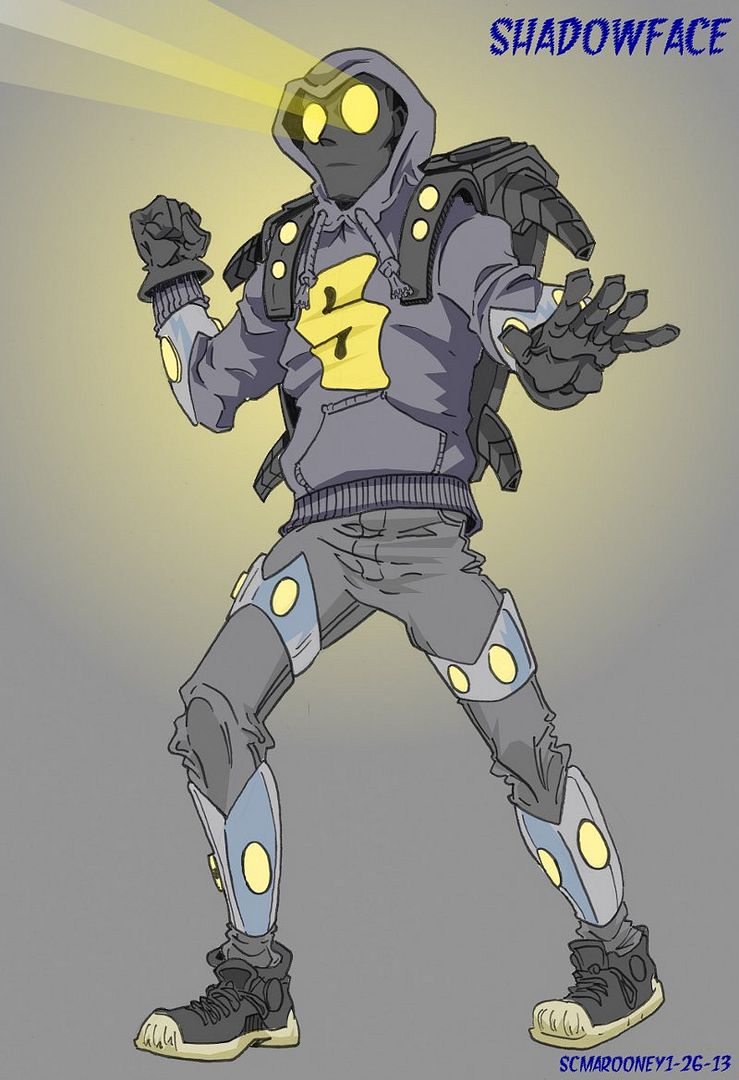 This high volume realistic action style with slight animation feel...
By D.I.S.
And this IN YOUR FACE live-action style
by Veritas71
All three artists were contacted to see if interested, but only one responded, and i understand, it would be a bit of a hassle, especially if you have job, or school, believe me i know, i'm extremely worried about the quality of my work decreasing because my job and school get in the way...
The plot line is very new and strange to comics, especially web-comics, this is no humor comic...

I wont send a full script to anyone unless they contact me interested , but rest assured its done for the first couple of months at least...

Interested artists will be required to draw a sketch of the character based on this description i wrote for the Weekly sketch group...
hadowface:
The character's name is SHADOWFACE, he has no superhero style costume, just a solid gray hoodie with a graffiti style "S" in the center, he wears a solid black mask, with large, round, glowing yellow eyes that cover nearly half of the mask, he wears his hood over his head. on his back, he wears a futuristic looking jetpack, solid black, with two yellow, glowing circles.
he has metal cufs that go halfway up his upper arm, slanted on the upper side, they too have two glowing yellow circles, as well as cuffs on his upper and lower legs, which look very similar. he wears solid black gloves.
unmasked, he has bright blonde hair, and is about 18 to 20 years old.

Nothing remarkable fancy is needed, i just need to se your style, post them on this forum, i will contact who i like best... and now i answer the question every artist must ask...

Does it Pay????

let me put it this way, not yet but there is guaranteed pay if the comic becomes a success and i sell enough products to split profits, please note, i'm doing this for fun, and will only take 1/3 of whatever profits we make in order to help publicise and continue the comic, if not, i'll pay you somehow... take it from a message i sent to an artist i was interested in...


Scripts will be delivered Via email for a new entire week every Wednesday and Sunday.
Not gonna lie, it would start off with no pay at first, but i'm using my job money to help support my mom and siblings right now, and when we get on our feet i should be able to pay small fee, maybe only about 100 a week at first, but all profits from the SHADOWFACE web store which i will get set up soon will be split 1/3 for me, 2/3 for you. because i think artists have it WAY harder than writers, i know, I've been working on old SHADOWFACE for nearly 5 years now, and have to work hard because i have writing skills, not art skills, literally i have to carry around Stan Lee's HOW TO DRAW COMICS every where i go, its a hassle, and that's why i'm looking for an artist.
between school and work, its just getting to be too much.
it will be one page every two days, one a day if it becomes a success, it will begin as black and white if you choose to do it that way, color would be fantastic, considering your color skills, but still.
There will be a couple of costume changes for the character, (e.g. the S on his chest) not too big of a problem.
I understand if your not interested, and appreciate your time, but if you are interested, you can reach me by PM on this site, or the contacts below.
Email:
[email protected]
(personal)
[email protected]
(comic book business email)
Or you can reach me at 940-***-****.
and there you have it folks! I would absolutely LOVE it if an artist came on board with me, and i hope someone can!

Peace out.

Joshua Potts.