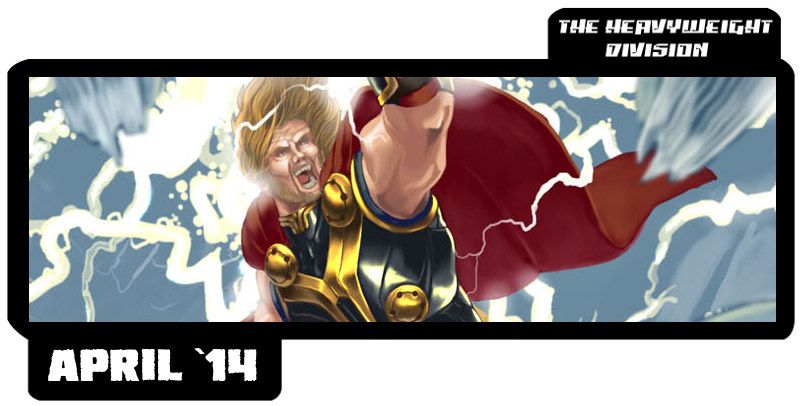 These are the monthly rankings for the Heavyweight PUMMEL match-ups
(due no later than the 25th of April 2014, @ 11:59pm Eastern Standard Time)
TOPIC: Skyrim/Elder Scrolls
1. PLOG
2. OrphanGrinder
TOPIC: Spawn
3. SRLew2
4. InkDrop

Congratulations to Mr. PLOG who reclaims his belt and throne to become Heavyweight Champion for an umpteenth time this month! It's no mean feat to win back the Heavyweight championship in PUMMEL so lets have a round of applause for Mr. PLOG! He's well aware that winning the belt back is hard, but holding onto it is even harder, and with Orphangrinder coming hard on the heels of a KO victory this last month it's going to be another tough match in April! That 3 way match between SRLew2, InkDrop and Battlewraith looks great too!

When you are satisfied that your artwork can be improved no further, feel free to post your piece in this thread and send a courtesy-PM with the image-link to your worthy opponent. If you are the second person to post your image, its your job to put up the voting poll!

-All topics MUST be posted in this thread. They will be chosen by the higher ranked fighter. If they are not posted here by the 11:59pm (EST) on the 3rd of April , the lower ranked fighter can choose a topic and post it up here.

-If you're having troubles with the 25th deadline, pretend that it's actually on the 24th or 23rd - that way you won't be late !

-You can contact the moderators here:

[email protected]

if you're having issues with the site or want to submit your entry early. Please be sure to have a clear subject title on your email, though(IE: April PRM Entry HW attn: scmarooney). Also please note that the PUMMEL email should be used only if you are having problems accessing the site. There are plenty of free web-hosting sites for images that you can quickly upload an image to (Imgur, Tinypic) and can get an IMG link to that image yourself !

-If you're doing sequential pages, do try and be a good chap and mention it in this thread when you acknowledge your acceptance of the month's topic as a courtesy to your opponent. A mention of wanting to do sequential pages does NOT lock you in for doing sequential pages. If you don't have time for that magnum opus you dreamed of doing this month, with 22 pages of purely awesome blinding brilliance, then do a single illustration or even a sketch so that your opponent will have someone to go up against on the 25th of the month!

ADDITIONAL NOTES: Some illustrations across the last couple of months have featured nudity and/or sexual content. ALL entries that feature any questionable material will be marked NSFW in the title of the voting thread. Try not to violate any of the rules of the PencilJack website as that is the home of PUMMEL as well! Thank you for your understanding and adherence to this rule.

IF you are using other sub-forums here at PJ or other websites to receive feedback on your monthly artwork please use good judgement on when a composition might no longer be, strictly, your own. If you are in doubt please PM your weight class commissioner. Originality is key in PUMMEL!