Grand Championship League 2010
If you are not a stranger to PencilJack, then you should already know about the Grand Championship. You may still wish to peruse the rules as I have added some clarifications. To those of you that are new, first off, welcome to PencilJack! The Grand Championship is a monthly competition between any and all members of good standing here at PencilJack. It was started in 2007 by long time member Dfbovey, and for the most part was a rollicking good success. 2008- no one was able to make the commitment to helm this monster for a year, so alas, it looked like a one off, grand adventure. However, in 2009- a plucky, young upstart named Mr. Hades decided to try his hand, and managed to revive the beast. Swamped with real life, Mr. Hades has handed off the project to me to continue for 2010.
So you are saying to yourself, "Why should I care? Pummel is where the action is." Well, I can't deny that good things are going on over in Pummel, but there are some perks with the Grand Championship. First off, you won't have to do your own stat tracking, I'll be doing that. Second, you get to compete against people of widely ranged levels of talent, as all are welcome. And thirdly and my personal favorite- you get to see lots of different takes on a topic as opposed to just two entries. Here is just one
EXAMPLE
. Also, there's nothing stopping you from competing in both Pummel and the Grand Championship. In the end, all that drawing should help you become better at the craft. So here's hoping to see you somewhere in the competition.
RULES
:
When you win a round you become that months 'Champion'. Once that champion is determined, that person would have to defend their crown each month. The benefit of being the champion is that you get to choose the topic for that month. And when that time comes, everyone and anyone can join the draw off to try to take your championship away from you.
Everyone gets 4 points for entering each month If you compete in all 12 draw offs, you will also earn an additional 100 points at the end of the year. So that's a possible 148 points.
Each vote you get in a poll every month counts as one point.
(you get 21 votes in a poll, that's 21 points)
In addition, there will be bonus points for finishing "on the podium":
50 points for first place
25 points for second place
10 points for third place
Ties: If at the end of the voting period there is a tie for first, a one day poll for the winning entries will be held. The winner of this second poll will have one point added to his vote count and declared the monthly winner, the loser will be awarded second place. If there is a tie for second, then they will both be awarded 25 points and there will be no third place awarded. Assuming there's only 1 first and 1 second place winner, ties for third will each receive 10 points.
For champions that do not compete the month after they win, you lose 25 points. That's half your bonus from winning. So it would benefit you to compete the following month. Since you are actually picking the topic, this shouldn't be a problem anyway.
Each month, anything goes. You can use any means of Illustration you like. If you want to go full color, pencils only, inks, paints... all digital. It's up to you. The idea is to showcase your talent and do the best work you possibly can. The monthly winner gets to pick the topic- but not the media as all are accepted.
SCHEDULE:
1st of the month - Topic is chosen for the draw-off and announced.
20th of each month, at 11:59pm Pacific Standard Time- Deadline for entries. Poll is set and will run for a six day voting period.
27th of each month - Winner for that month is announced and they the topic for the following month. If they do not respond by the first, the points leader then chooses the topic. Or you go down the point leader's list until someone does pick a topic.
There will be no extensions. You are either on time or your entry will not be included in the voting poll. Which would mean zero points for you that month. -25 if you are the reigning champion.
The voting polls will be public. Meaning that people will be able to see who you voted for. And as a rule, you are not allowed to vote for yourself. Voting for yourself is a wasted vote, as it will be deducted.
If the championship is tied after 12 contests... there will be one last draw off between those who are tied for first place. Which would determine the overall winner. Each person would choose a topic, which would then be voted on to determine the final topic.
Any questions and comments about the league in general should be posted in this thread. Any comments regarding the actual monthly draw off should be handled in the thread labeled Grand Championship - "Month" - "Topic"
Here is the monthly leader board; will your art and name go down in PencilJack history?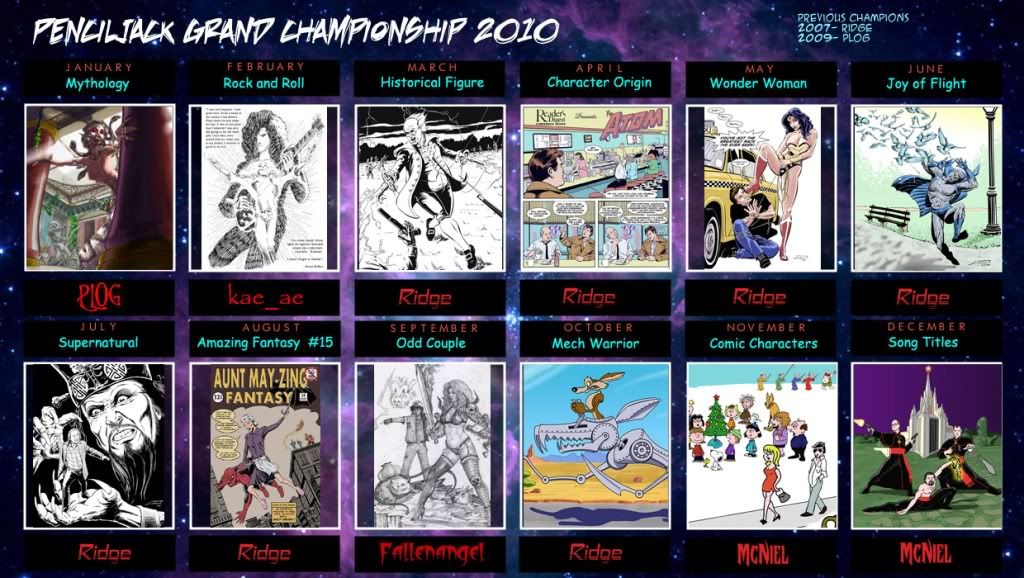 Once again, hoping to see your creativity and talent at work,
McNiel
2007 Championship Board
2009 Championship Board
And finally, Mr. Hades and Sacredbob may be stepping in from time to time if real life manages to hamper my efforts at running this in a timely manner. So I would like to give them a pre-emptive thanks!